Jumble Sale
From time to time I need to clean up my lab and need to get rid of some old stuff. So I will show here what might be of use for an amp DIY builder. Shipping costs are depending on your ountry, so please get in touch with me if you're interested in anything I'm selling. This is a private sale, so no warranty.

For any requests please use: martin.adamsATgartensoft.de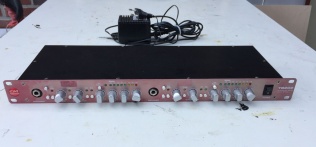 I'm selling a 2 channel tube-preamp SM Pro Audio TB202 (Mk2!). A flexible and versatile preamp with the following features:

- Inputs (per channel): 1x guitar/bass TS 1/4" high impedance, 1x line TS 1/4", 1x Mic symmetric XLR

- Outputs (per channel): 1x line out unsymmetric, 1x line out symmetric XLR

- Gain, switchable optical compressor, 3 band tone control (with bypass), invert switch / 20dB pad, 48V phantom voltage for Mic, leel indicator, tricolor LED for compressor function, switchable attack/release time

Fully working, front is a bit bleached out. Includes: preamp (19", 1 heigth unit), power supply and manual (pdf).
asking price: 70,- € / shipment depending on buyer's location :-)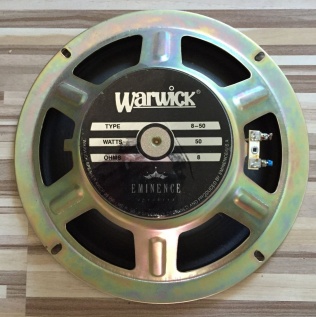 Eminence Guitar Speaker 10"/50W/8 Ohm
I'm selling two of these Eminence 10" speakers (50 Watt, 8 Ohm) labeled "Warwick". Rarely used, 100% working. 20,- Euros per speaker, 35,- Euros for both.

SORRY, ALREADY SOLD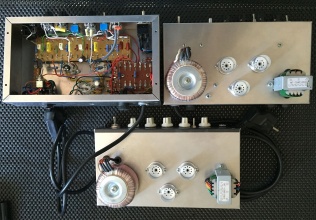 G2 Prototype
---



---
I'm selling a G2 prototype, chassis with handwritten labels, bottom made of plexy glass. Circuit and layout is 100% the same as the standard model, 100% working. I only need one G2 so this can go :-) To be sold for 30,- Euros.
SORRY, ALREADY SOLD
G3 Prototypes
I'm selling G3 prototypes, there are three of them that have been assembled during the development of the G3 Blues. The circuit is NOT the G3 Blues circuit, but these prototypes are a valuable source of parts and can be used as the basis to build your own bedroom amp. Includes the power transformer (200V/70mA + 6,3V/2A), an output transformer usable with a 6N6P power stage as in the G3 (15W 100V output transformer) and lots of parts incl. knobs. If you want you can get a 6N6P from me for an extra 6,- Euros or the full tube set for the G3 Blues (6F1P, 6N1P, 6N6P) for 12,- Euros. Price per prototype is 20,- Euros.

SORRY, ALL PROTOTYPES SOLD