All MADAMP kits in a nutshell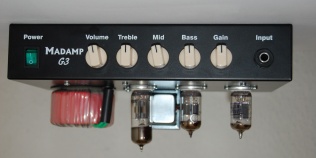 MADAMP G3 Blues
The G3 Blues is the current MADAMP entry level bedroom amplifier. It is equipped with a russian double-triode power stage with an output power of about 3W and a three-band tone control. The G3 Blues is designed for clean and lighly cranked sound.
»more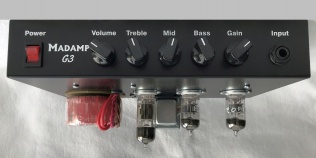 MADAMP G3 Rock
The G3 Rock is the current MADAMP entry level bedroom amplifier. It is equipped with a russian double-triode power stage with an output power of about 3W and a three-band tone control. The G3 Rock is designed for crunch sounds.
»more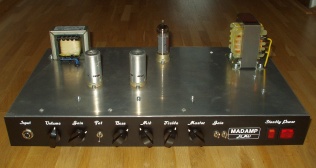 MADAMP J5Mk1
The J5Mk1 is a low power amp with 5W from a single pentode output tube. It is designed for clean to crunch to high-gain sounds without ear-shattering volume. Due to a three-band tone control and a switchable boost stage with dedicated volume control the J5Mk1 is a versatile amplifier for home use and practice.
»more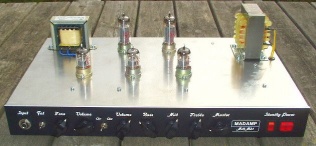 MADAMP M15Mk1
The M15MK1 is a two-channel amplifier with 15W. The first channel is designed for classic 60s bluesbreaker sound, the second channel with a three-band tone control and master volume provides classic British 70s/80s rock sound.
»more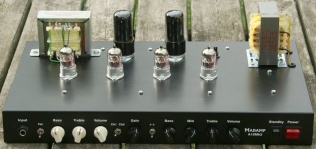 MADAMP A15Mk2
The A15MK2 is a two-channel amplifier with 15W. The first channel is designed for classic 60s brownface sound, the second channel with a three-band tone control and switchable boost stage provides american high-gain sound.
»more

This kit is discontinued!
MADAMP BP1Mk1
The BP1Mk1 is a full tube 19" bass preamp with active three-band tone control and features like switchable input sensibility, bass/treble boost and tuner output.
»more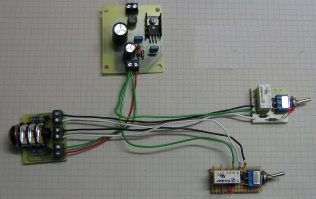 MADAMP FS1Mk1
The FS1Mk1 is a kit for a double footswitch option, including power supply board, plug-socket board and two switch boards with relais and LED. The FS1Mk1 is designed for J5Mk1, M15Mk1, A15Mk1/Mk2 but can also be used in other DIY amplifiers.
»more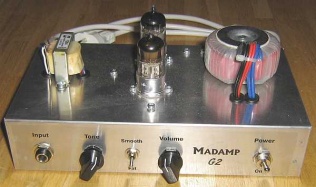 This kit is discontinued!
MADAMP G2
The G2 was my first MADAMP entry-level bedroom amplifier. It is equipped with a russian double-triode power stage with an output power of about 2W.